Tools and Utilities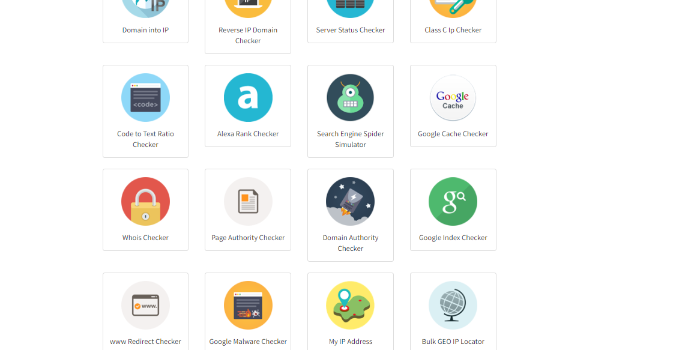 Tronitools
Search Engine Optimization More than 50 SEO Tools to keep track of your SEO issues and help to improve the visibility of a website in search engines.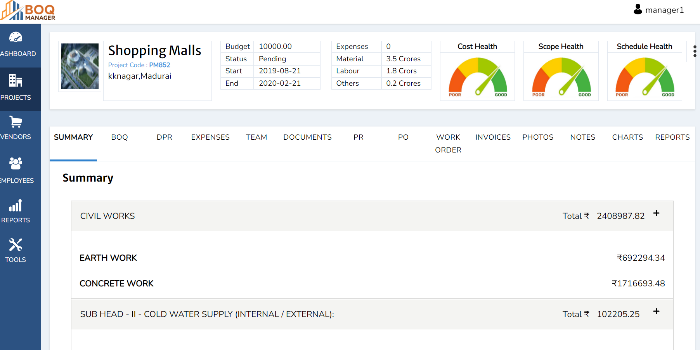 Construction Estimation, Management & Budget Tracking Software
Construction Project Management Software for BOQ based Costing, Scheduling, Reporting, and Monitoring A bill of quantities (BOQ) is a document used in tendering in the construction industry in which materials, parts, and labor (and their costs) are itemized. It also (ideally) details the terms and conditions of the construction or repair contract and itemizes all work to enable a contractor to price the work for which he or she is bidding. The quantities may be measured in number, area, volume, weight, or time. Preparing a bill of quantities requires that the design is complete and a specification has been prepared. The bill of quantities is issued to tenderers for them to prepare a price for carrying out the construction work. The bill of quantities assists tenderers in the calculation of construction costs for their tender, and, as it means all tendering contractors will be pricing the same quantities (rather than taking-off quantities from the drawings and specifications themselves), it also provides a fair and accurate system for tendering. BOQ Manager is designed with BOQ-based estimation and tracking principles making it as the best software for Construction Management for small and medium scale industries. You don't need to invest highly in ERP software like Sage and SAP. Key Modules Projects The administrator can manage multiple construction projects. Each project can have a dedicated project manager and team. Vendors The vendor module helps you to organize your vendors and subcontractors. The vendor may be a sub-contractor including plumbers, electricians, painters, interior decorators, or anything… As an admin, you can add your vendor and manage all the billing and cost easily. Document Management Complex construction projects demand a better way of organizing documents. Storing them in a cloud and securing them with proper access permissions make life easy. Purchase Purchase is the most skillful and most demanding task in any construction project. BOQ Manager employs tools to create a Purchase Request ( PR) and then create the Purchase Order ( PO ) against the request. As the software is designed with BOQ tracking, all purchases are grouped and validated against the BOQ Item. BOQ ( Bill of Quantities ) BOQ is the key term used in a construction company. It is the base for costing and scheduling. As a project manager, you can import the BOQ from an Excel file or you can add your BOQ items. BOQ items are grouped by sections and sub-sections. This makes it easy for costing and scheduling. Cost Component A BOQ item can be assigned to a Cost Component. A cost component is the sum of Material Cost, Labor cost, Handling cost, and related cost units. This costing method allows the engineering team to monitor the budget with real-time cost. Daily Progress Report The system makes it easy to generate Daily Progress Reports ( DPR ) based on the BOQ Unit. This helps the monitoring of Schedule, Cost, and Work Completion Percentage. Expenses The software allows you to record any expense related to that project. The expenses are grouped in categories and accounted for by any employee name. This helps to track the expenses and costs. Customers The customer module helps you to store your Customer Data and carry out customer-related functions like Invoicing. Photo Gallery Photo gallery modules help the team organize the construction site photos on a Day Basis. This helps to track the project life visually. Payroll A simple payroll system inclusive of Employee Advance Management makes it easy for the team to have all data in one place. Roles and Permission The system is designed with a powerful Roles & Permission module. Admin can create the additional roles or assign/revoke permission as needed. Export and Data Backup The system supports the Export to XLS option and the support to Data Backup. Mails & Notifications The system is designed with an Email, SMS, and Push Notification System.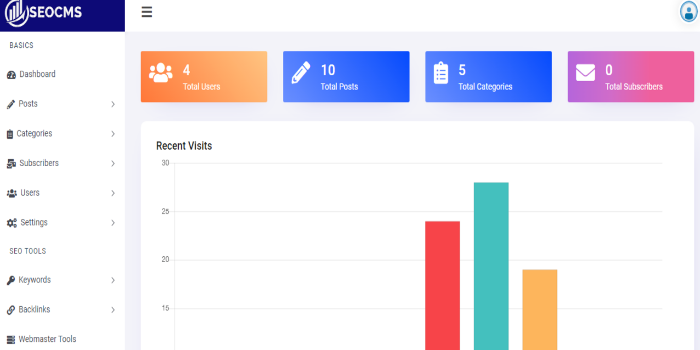 SEOCMS - Best CMS For Bloggers & E-com Affiliates
Multipurpose CMS with Integrated SEO Tools, Blog & E-com Affiliate! One time Installation Secure Admin Panel Multipurpose CMS (Blog with Custom Landing page) Over 70 options for customize index page design Blog post customization (Left, Right, Middle) Automatic image compression One click email send to all subscribers Attractive & Responsive Blog Design Fast Load Speed (1.1 second to load) Custom Meta Tags for each blog post Connecting Bing, Google, Yandex Webmaster Auto setup of robots.txt Auto setup of Sitemap Custom indexing & De-indexing options Create Post with Rich Text Editor Drag and Drop Image Option Edit & Resize Image in Editor Auto image optimization (Will auto reduce size not quality) Custom & Readable Post URL (Can edit by specify the keyword) Categorize Blog Posts Specify Focus Keyword for Post Custom Meta Description for Post/Category/User/Blog Auto Checker - Keyword Appeared in Post Heading Auto Checker - Keyword is not used inside Post URL Auto Checker - Keyword used inside Meta Description Auto Checker - How much time keyword appear in the post Auto Checker - Auto Keyword Density checker Auto Checker - H2, H3, H4 tags are available or not Auto Checker - Keyword in image alt text Auto Checker - How much time keyword appear in the content Auto Checker - Post URL Length suggester Auto Checker - Long paragraph checker Auto Checker - Post Word counter Auto Checker - External linking Auto Checker - Internal linking Auto Checker - Images appear in content or not Featured Image for each post Save post in draft for late publish Preview post in draft mode Advance SEO options Checker - Canonical URL (Default: yes) Checker - Post to appear on sitemap Checker - Do not allow Search Engines to crawl this page (Default: Show) Checker - Allow Facebook Meta tags (Default: Show) Checker - Allow Twitter Meta tags (Default: Show) Checker - Allow Schema tag (Default: No) Integrate Disqus commenting system in a minute Set Custom index for Category Subscribe form Subscribers list Add user with multiple roles Set Site title (For homepage) Set Site name Set Site logo Set custom Site favicon Set Meta description for website Backlink checker (Using Moz API) Moz Link metrics Moz Link Domain rating Moz Backlink status Export any table data in Excel or PDF Webmaster integration Option to add Google Adsense Code Option to add Google Analytics code Inbuilt Keyword Research Keyword search volume Keyword cost per click Keyword competiton Keyword ranking difficulty Total results of keyword In Google Keywords export option Related keywords with all data. Keyword suggestion 1000 in 1 minute Keyword suggestion data export (PDF, Excel) & sort option SERP checker Checker SERP ranking for 100+ countries Choose language for SERP ranking for better results Check upto five pages of SERP Result Sitemap Customized Options Update Sitemap in one click Submit Sitemap to Google/Bing in one click Affiliate Post Create automatically post from Amazon or flipkart affilliate link within 10 seconds Get Title, Image, Size, Summary, Specification, Detail, Feature (Affiliate post) SMTP Connectivity (Gmail Or Any) Keyword Questions Generator Keyword Questiongs from twitter, playstore and more platforms Check unlimited website's Alexa Rank Get Visitor's metrics in Admin panel Documention - Purpose & How to Use SEO tools