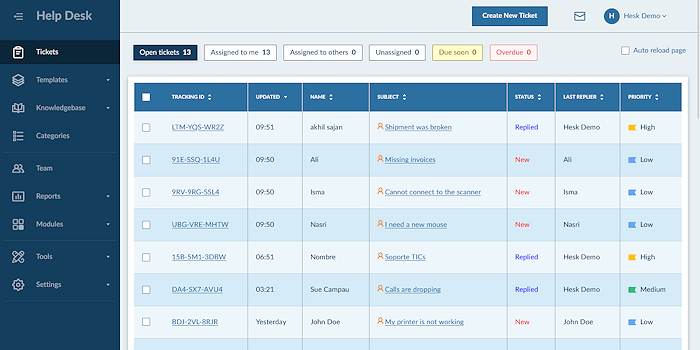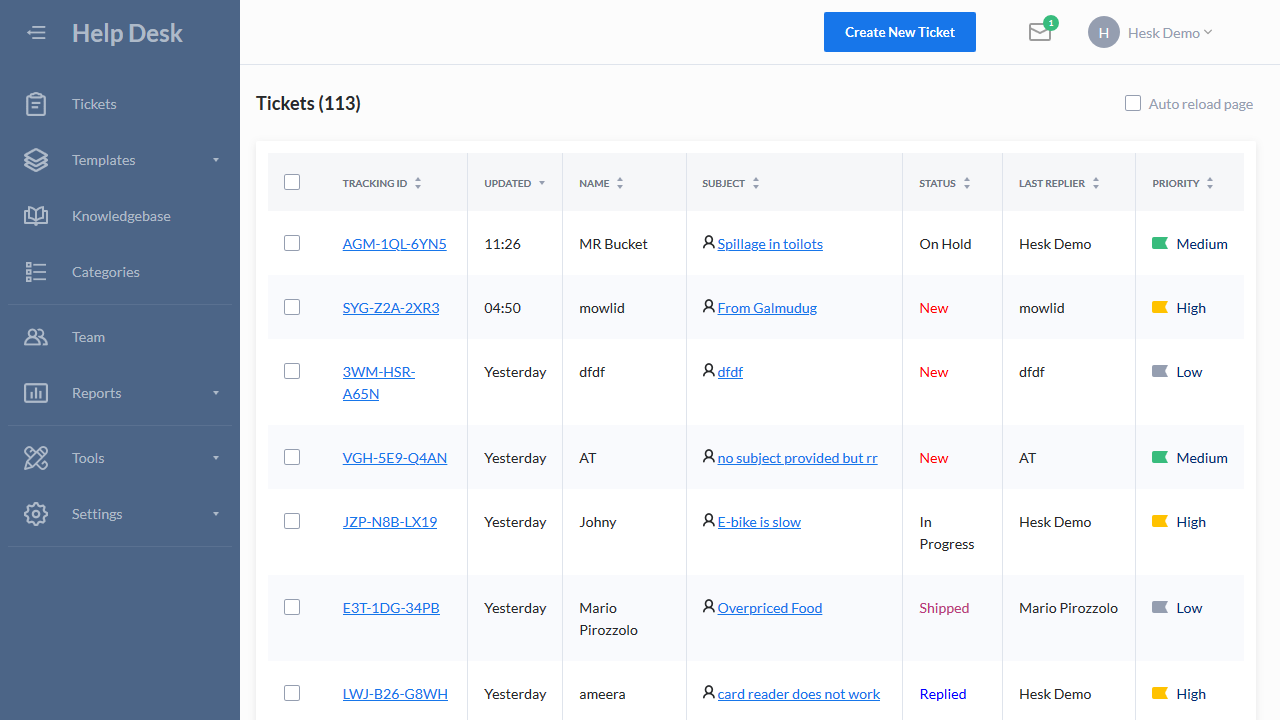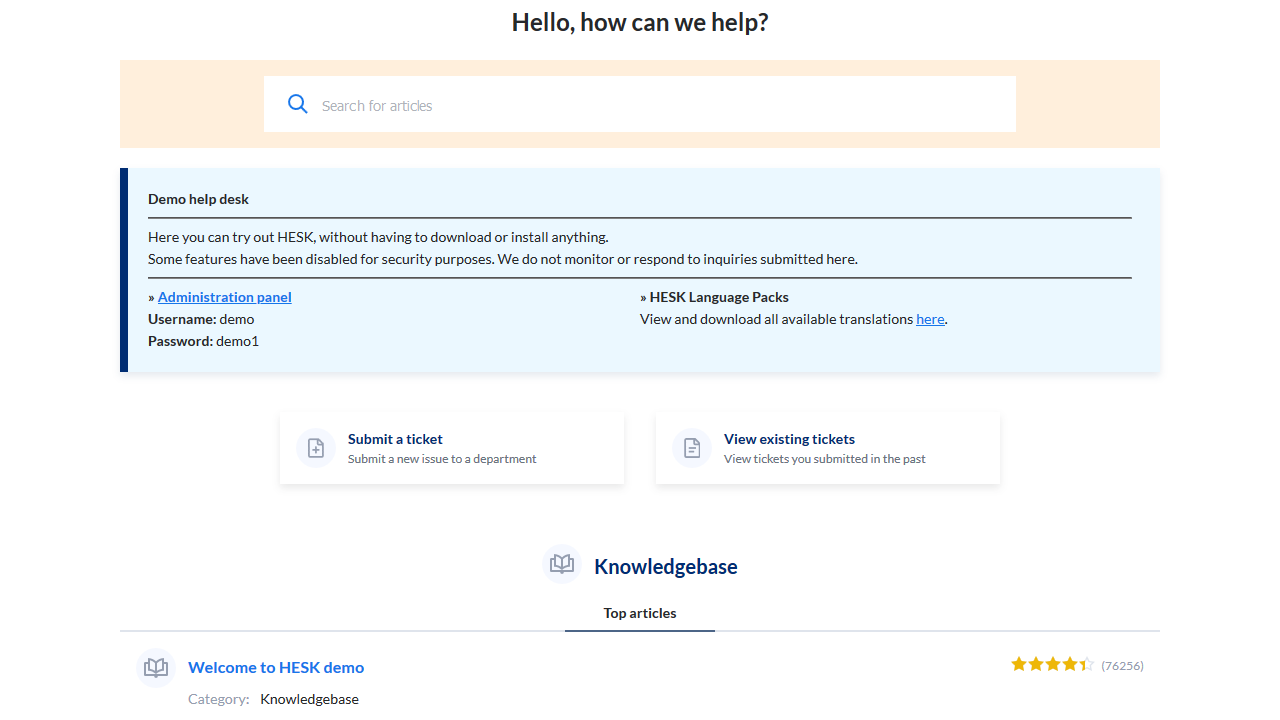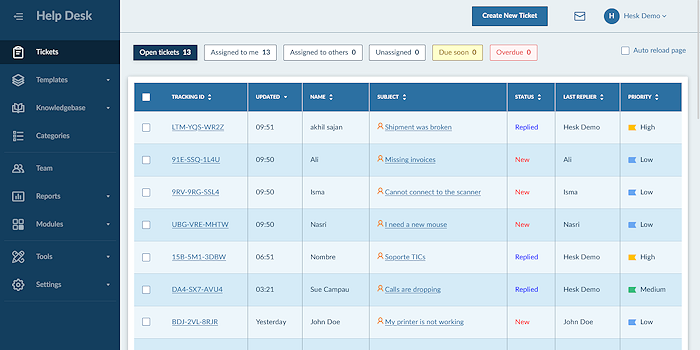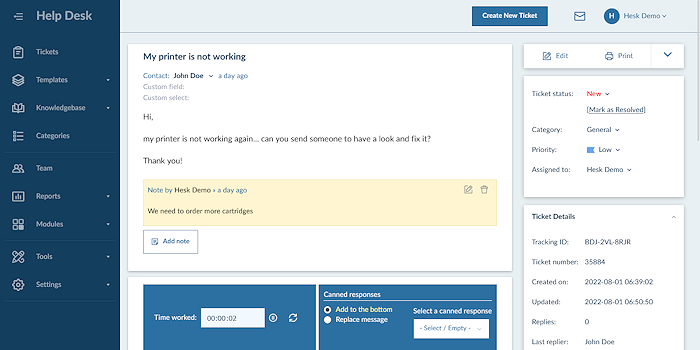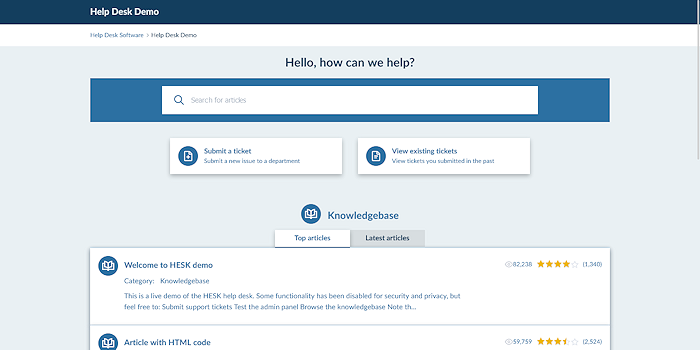 HESK - a simple, secure and FREE user-friendly help desk
Sponsored
Hesk is a free mobile-friendly ticket help desk php script that lets you set up a ticket-based helpdesk for your web site. Download today for FREE
Product Details
Hesk is a modern mobile-friendly PHP help desk script with a MySQL database. It allows you to set up a ticket-based support system (helpdesk) for your website. Your customers can submit support tickets, and the staff has a friendly web-based interface to reply to and manage tickets. Features include multiple staff logins, categories, powerful ticket search functions, file attachments, custom fields, canned responses, an easy-to-use web interface, a fully-featured knowledgebase, email piping/pop3 fetching with OAuth support (supports Microsoft 365), time spent on tickets, multi-factor authentication, and more. Hesk has been translated into various languages and can be easily translated to your language simply by editing one language file.
Report this Listing
User Reviews
Please rate the listing and tell the world know what do you think about the listing.
Owsome Help Desk App
Reviewed by
Vijay
on
Sun, 10th December 2017
This Help Desk software is awsome.
Always My Favorite!
Reviewed by
Robert Hamborg - Pinkham42
on
Mon, 29th May 2017
Hesk has always provided a Free and frequently Updated Help Desk for my Websites. It's a Great Script and you cannot beat the options and settings. I use it exclusively!
very easy to use and full of resources
Reviewed by
ericg
on
Thu, 4th May 2017
User-friendly. Although free, very good support.
Great tool
Reviewed by
Ajay Kumar
on
Mon, 1st May 2017
We are using this tool more than 1 year and it working as charm beyond my expectation. Awesome.... :)
Very good and powerful. So customizable.
Reviewed by
TechGuy29
on
Thu, 30th March 2017
Currently only using it for our users to log all their technical faults with our technical staff.using it in on our network only. No public access, we use vpn to channel it from the outside. So alot of the features that helps with security is turned off.