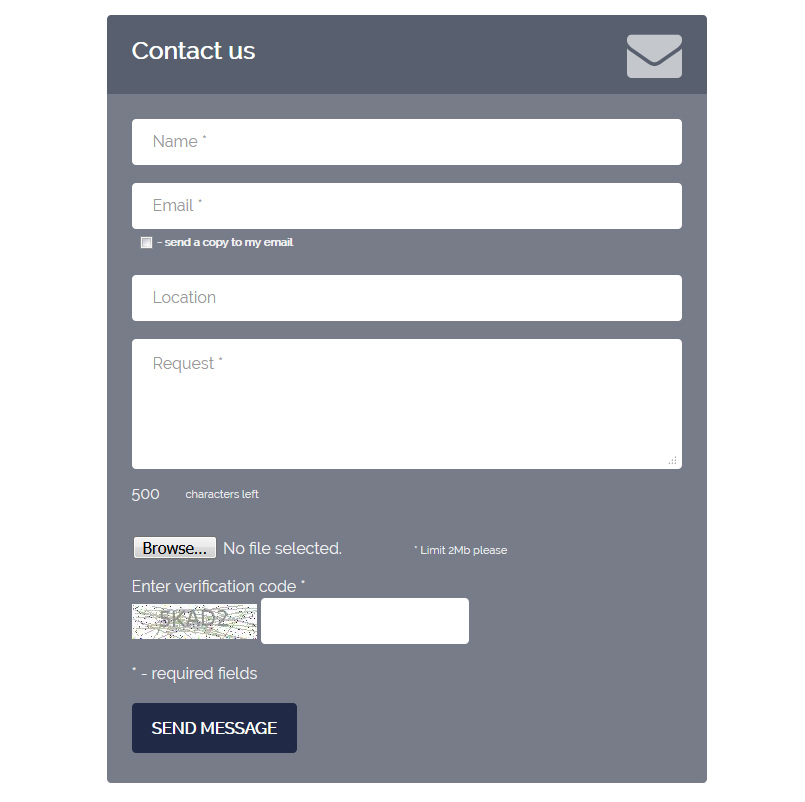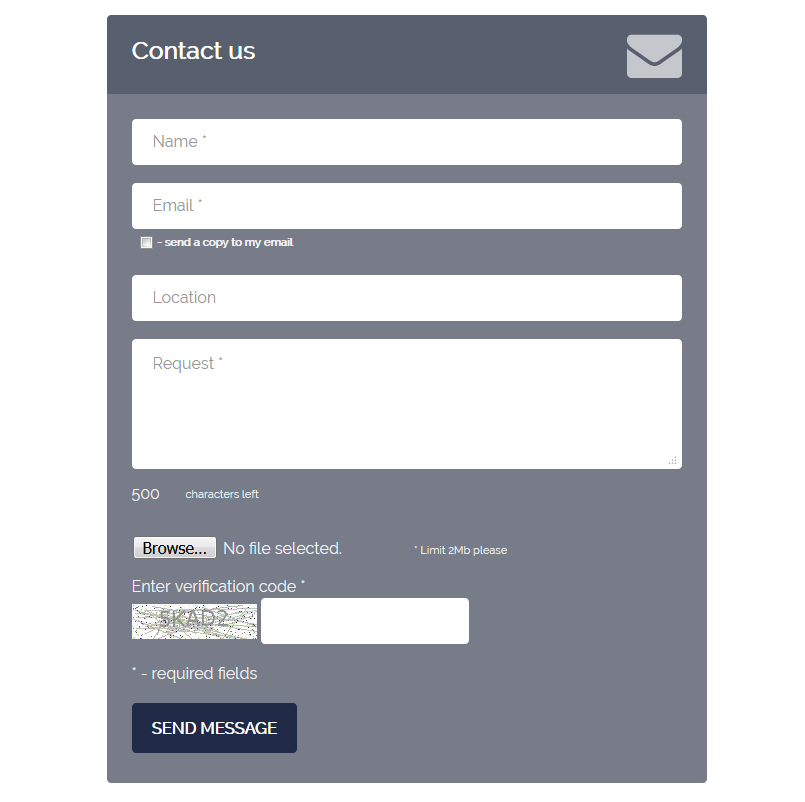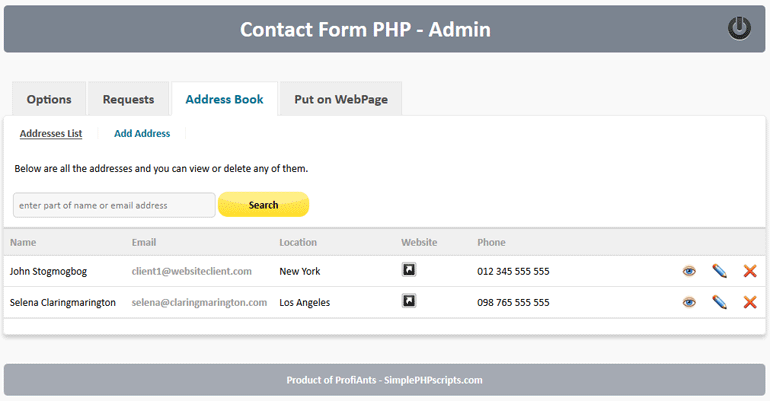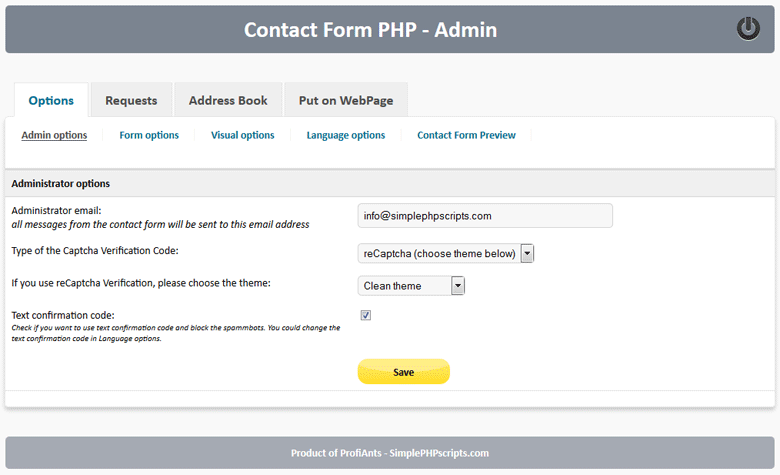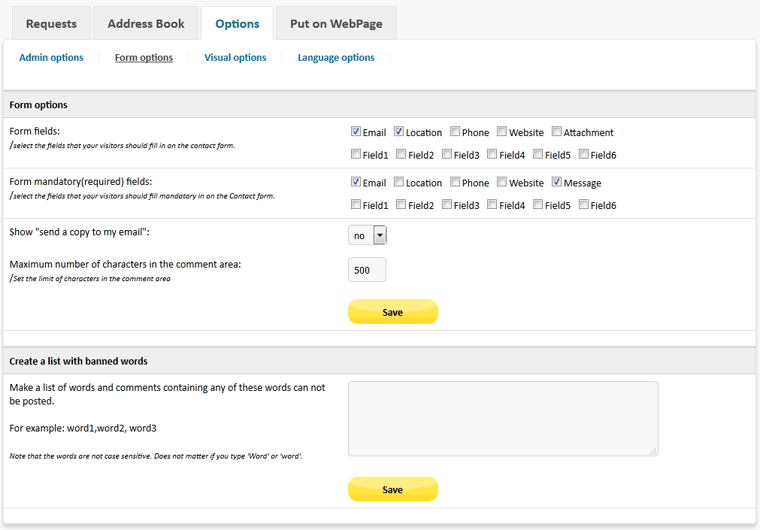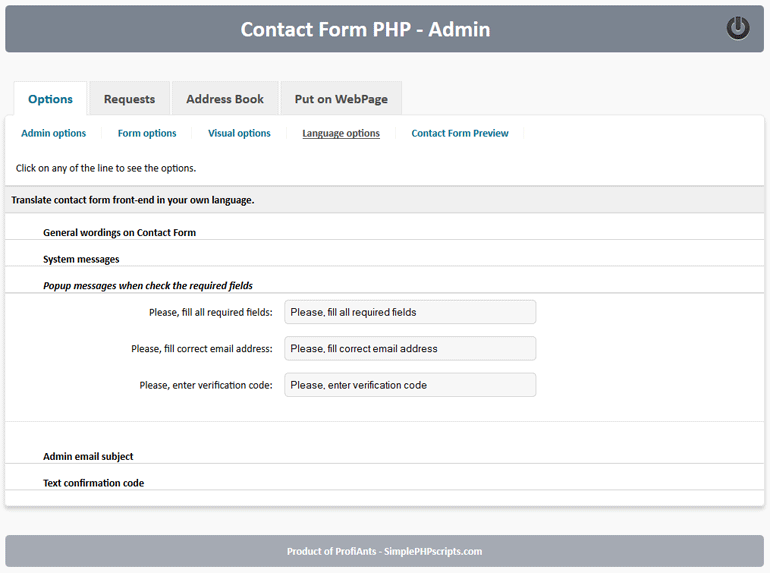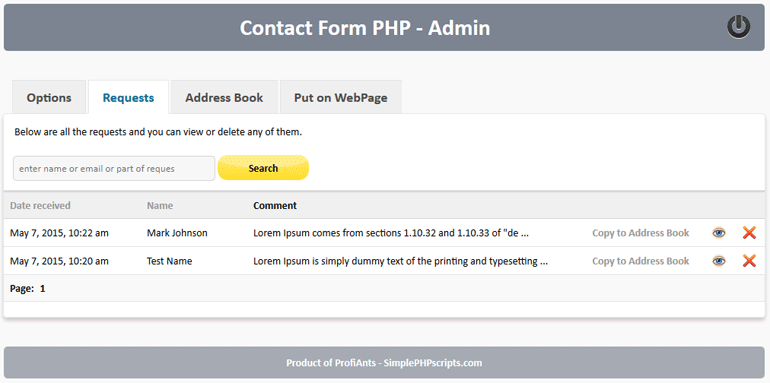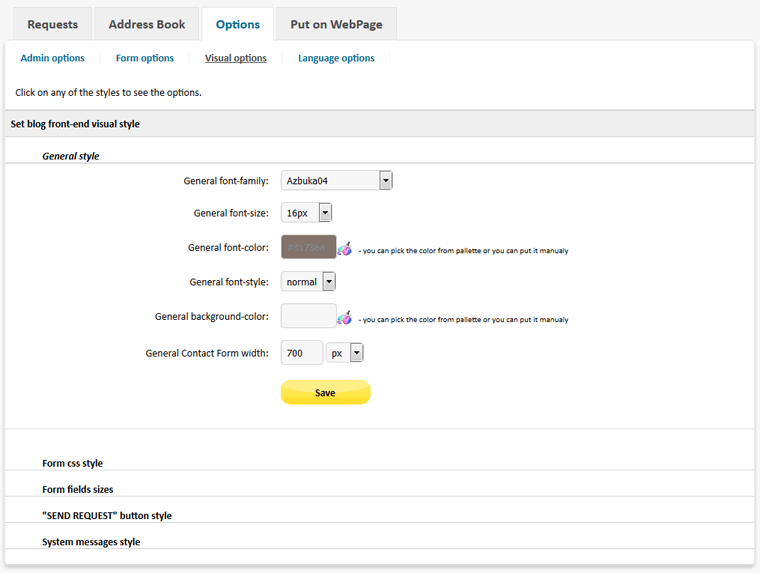 Contact Form PHP
Each website needs a contact form - Contact Form PHP script is very easy to install on your contacts page and administer.
Product Details
Contact Form PHP script is very easy to install on your "CONTACTS" page. Features: - responsive; - protected admin area; - any language support; - full control over fonts, sizes, colors widths and other visual elements; - one step installation wizard; - very easy to include into your "contacts" page - just drop a single line of code; - select only the fields that you want to appear on the contact form; - ability to set required fields on the contact form; - sending attachments; - limiting number of characters in the message text area; - create a list of banned words, so you can stop unwanted messages; - 4 types of captcha codes or without captcha verification; - optional verification question for more security; - receive messages on more than one email; - all received messages are stored in database and admin is able to preview/delete them; - address book included into admin area, so you are able to manage your contacts; - full source code
Report this Listing
Lifetime Single License. FREE INSTALLATION. Free minor updates.
Lifetime Extended License. FREE INSTALLATION. Free minor/major updates.
User Reviews
Please rate the listing and tell the world know what do you think about the listing.
Simple and elegant execution of a basic need.
verified
Reviewed by
John
on
Sat, 18th April 2015
Easy to install and easy to use, with great support from the developer. Simp[e and completely customizable, with clear and easy instructions as to imbedding it within several pages on my existing site. Took less than a half hour to install and worked flawlessly the fist time I used it. Excellent addition to my website, I could not be happier.
Simple straight script
Reviewed by
Anonymous
on
Tue, 22nd May 2012
I have bought Contact Form PHP from ProfiAnts and they installed the script for me for free. Then I have easily placed on my contacts page and customized to suit the design of my website. I'm also the project manager in my company and I will definitely recommend this script to any other company in the world.
Poor functionality
Reviewed by
Anonymous
on
Wed, 4th April 2012
The script is only exaggerated, but very poor in regard to functionality and features. This product is absolutely a waste of time and need so much additional work on it.
nevenov
Fri, 27th April 2012
The script is very useful for each website. I don't see any exaggerated word. I stand behind any of the words I wrotte about the script description. Why is this negative review, you don't even know nothing about the script. Do you know that in the price is included free installation on the website? Do you know that we support 7 days a week? Do you know that if you need any other feature to the script, we will be able to add it? I don't know why reviews like this are exist, just bla bla bla... in the net !!!
Troublefree and all the right features
verified
Reviewed by
promis
on
Tue, 20th December 2011
OK. Here is what happened. Yesterday I bought a forms script for $39.99. I spent 4 hours trying to make it work with no luck. The developer refunded me the money because he could not fix his own script. I found your script from hotscripts.com. I though I give it a try although there were no votes for it. Congratulations for a straightforward script that works perfectly, is easy to install and has no ifs and buts and with all the right features. Also I did not have to chase you after payment to get a download link.