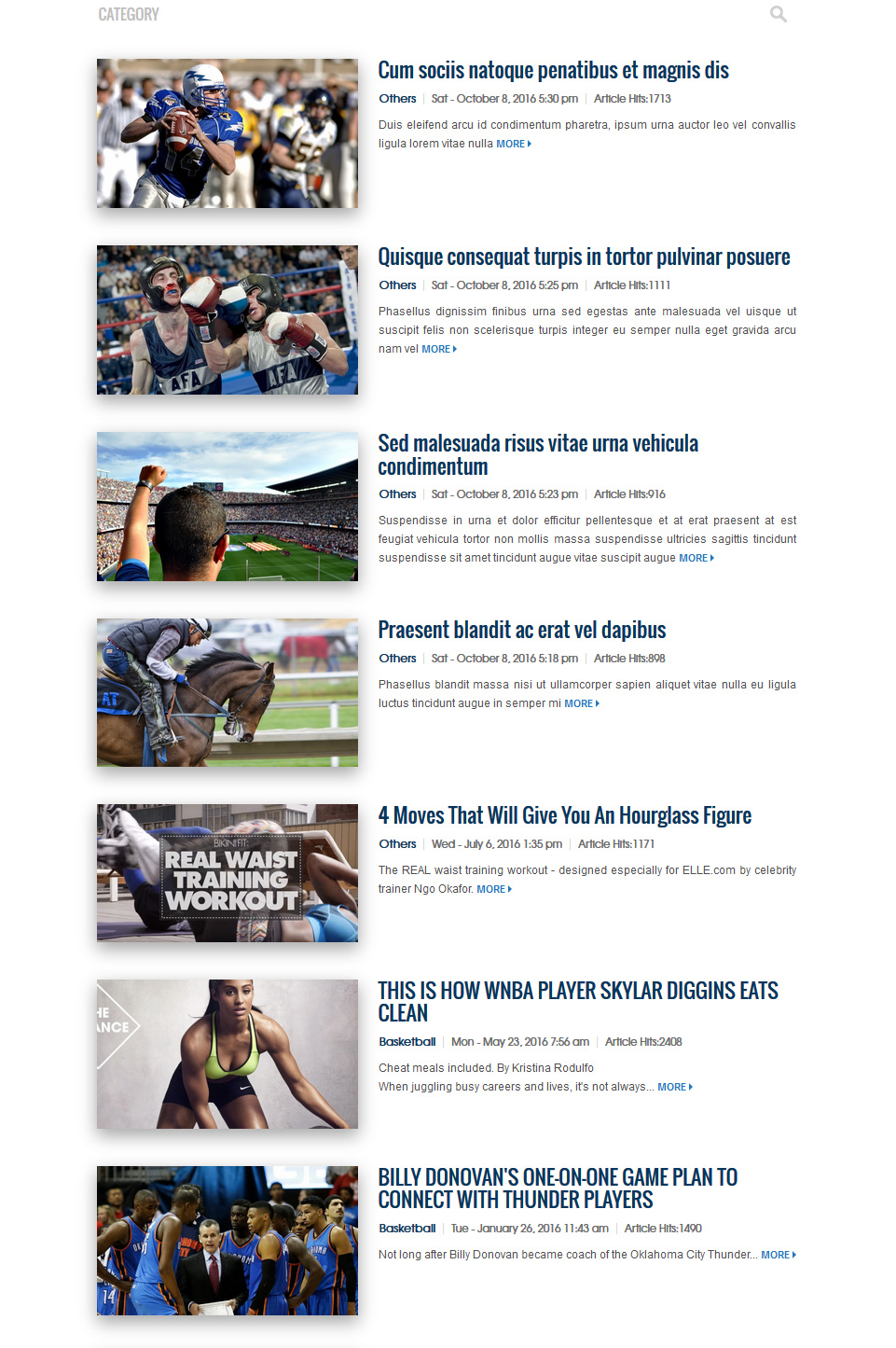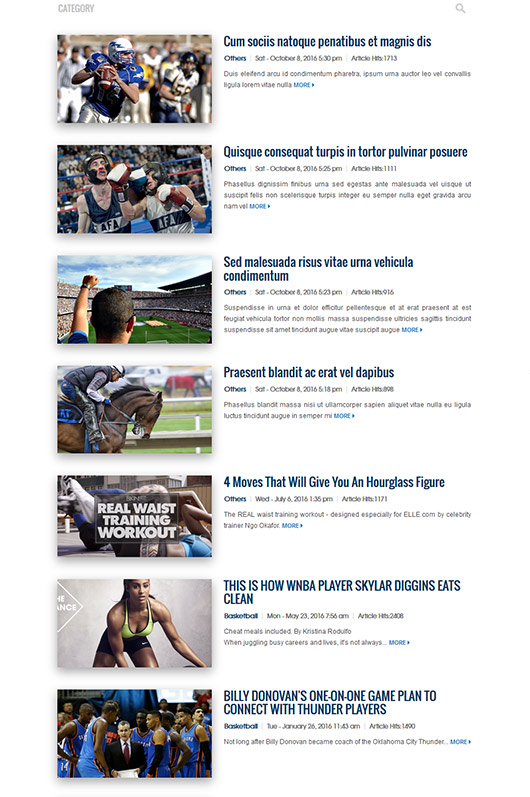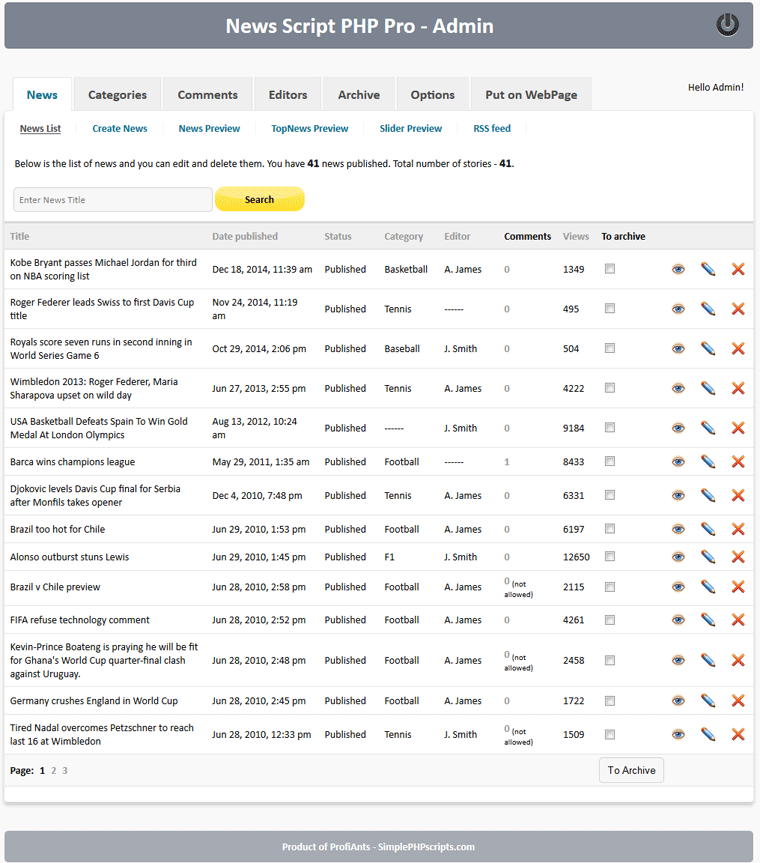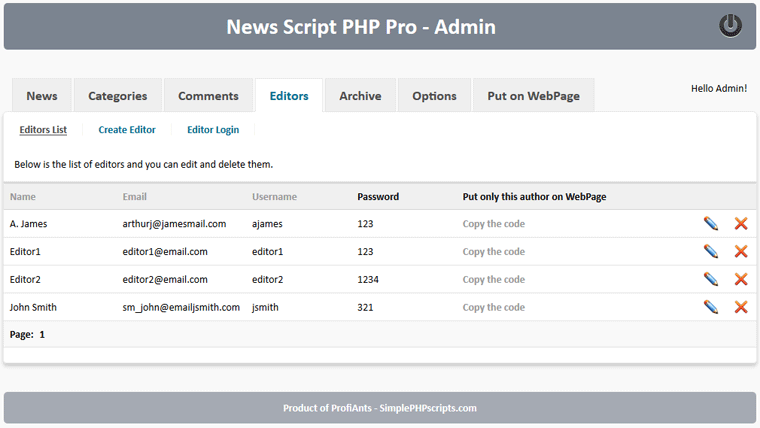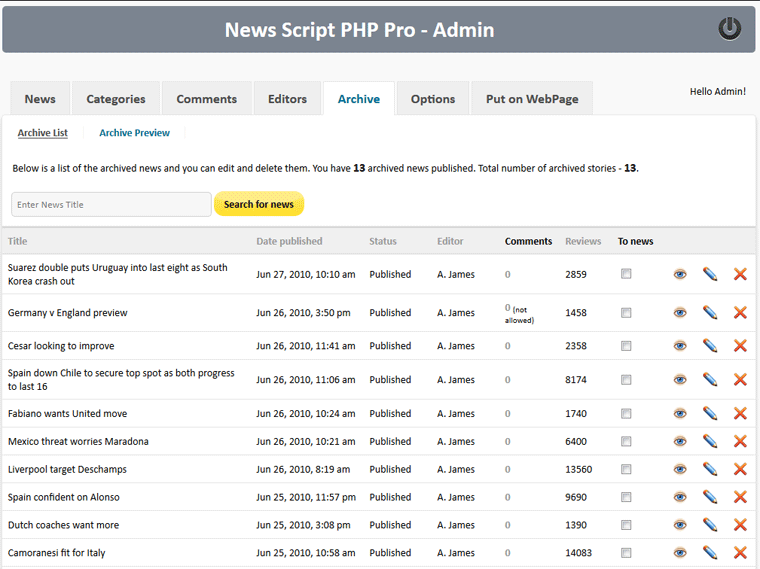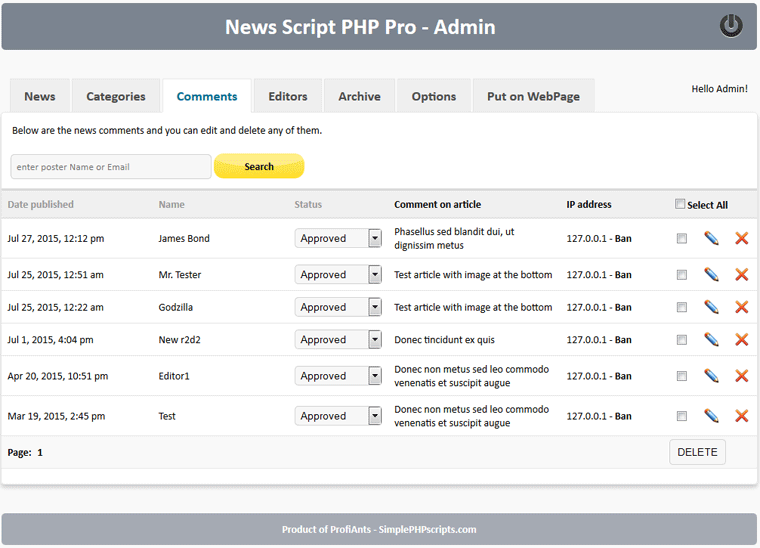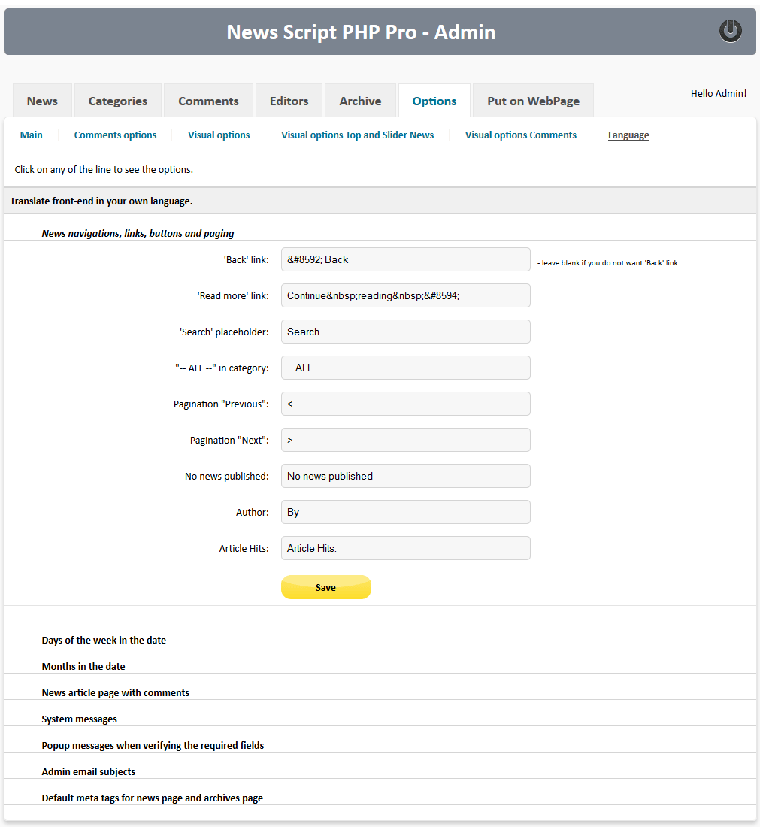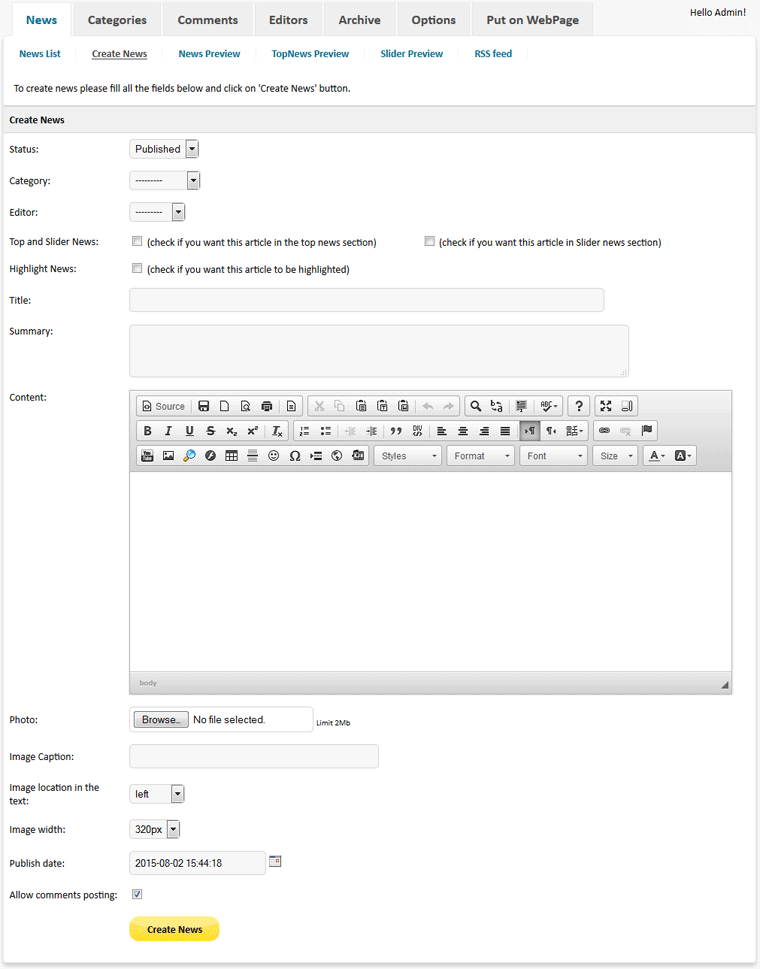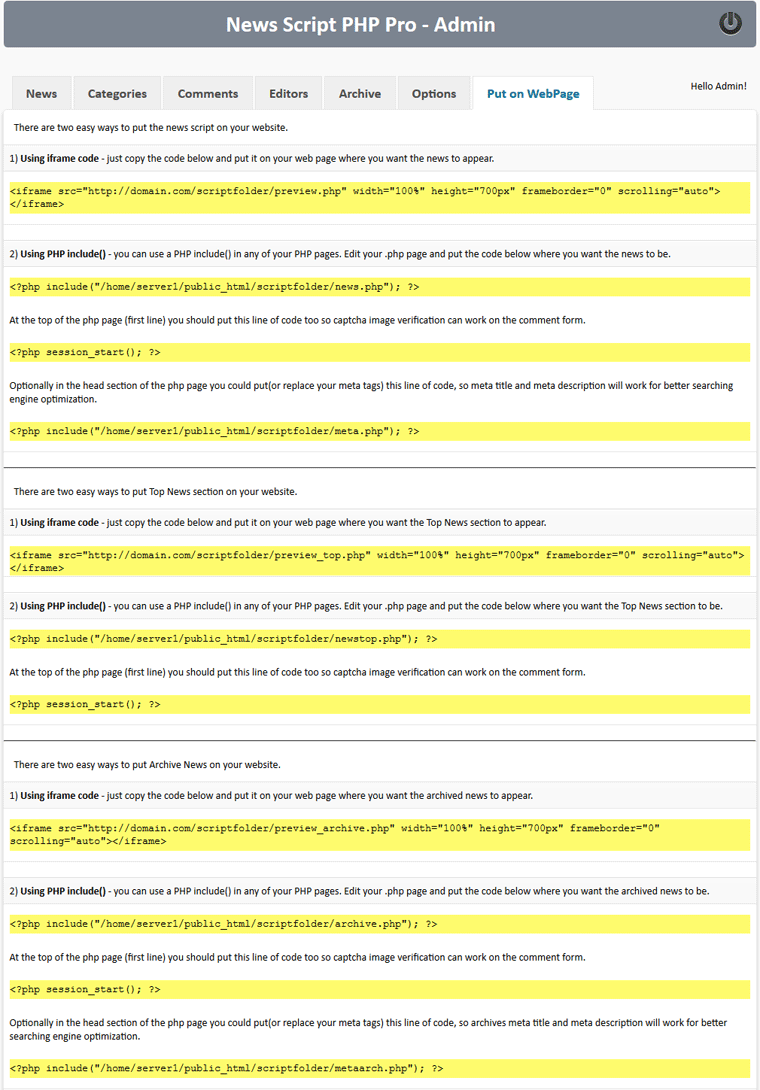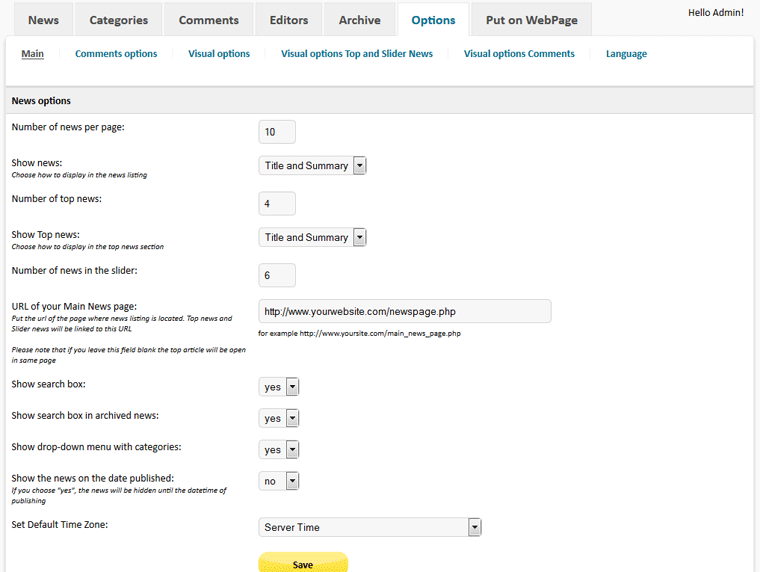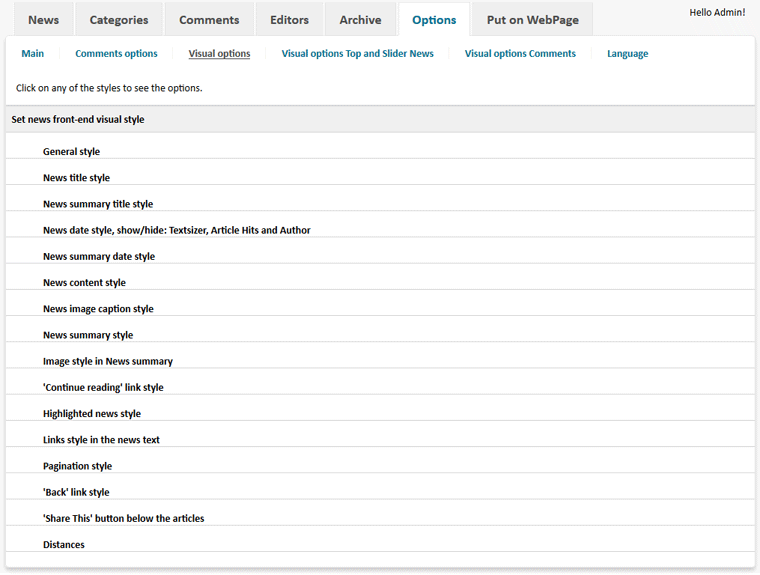 News Script PHP Pro
News Script PHP Pro is a news script designed to be included into your website and fit the layout of the page. Minimum requirements - PHP and MySQL - to run on your server. One single step installation wizard. We provide free installation.
Product Details
If you need a news publishing script on your website, you're at the right place. News Script PHP Pro is designed to be integrated into your website. Visitors to your website will be able read your news and leave comments. News Script PHP Pro features: * responsive; * one step installation wizard; * password protected admin area; * news edirots/authors; * categories; * news slider; * top news section; * comments; * highlighted news; * different size and position of the photo to each article; * any language support; * easy css setup; * copy and paste one line of code to include the news on your webpage; * rich text editor for the news content; * ability to add youtube and vimeo videos; * news archive; * Share buttons for social networks; * option to create lists with banned words and IP addresses; * additional verification question and answer in comments form; * W3C validated RSS Feed; * readable source code
Report this Listing
Lifetime Single License. FREE INSTALLATION. Free minor updates.
Lifetime Extended License. FREE INSTALLATION. Free minor/major updates.
User Reviews
Please rate the listing and tell the world know what do you think about the listing.
Great Script and Great Support
Reviewed by
Webdev319
on
Tue, 12th April 2016
This script does just what it says. Has some excellent options for setting up content, comments and layout. I had some issues after installation which were server-related however the support I from from the seller was great - He worked on this for 2 days with me until everything worked well and I might add the issues were not really related to the software but rather the server setup. As a web designer I really appreciate it when the vendor stands behind the product they sell and provides necessary support. This team goes far beyond that - many thanks from a satisfied user
THE SCRIPT EVERYONE NEEDS !
verified
Reviewed by
TraNceMeeting
on
Wed, 20th August 2014
Tired of trying to insert/adjust websites such as WordPress in your own web site? Tired of trying to decipher CM sites? No way I would get rid of my design! I found this script and I am so happy I can post news and even have comments while keeping MY DESIGN. The EDITOR function is fantastic because you can enter copyrights along with this function so that it gives credit to an existing article. The installation was easy and anyway if you have any problems Stoian, the person in charge, will help you as many times you need. Never seen such a great customer service.
Script complete and excellent support
verified
Reviewed by
Satiro Koba
on
Mon, 7th July 2014
I already bought almost all Scripts Developer, I use since 2012 until "today" 2014, never had code problems. Works smoothly on Windows Server 2008, Linux hosting and VPS. Over the past two years I have chosen to customize some products and I am very satisfied with the timeliness and quality of service!!! I thank in my name and my clients.
Professional approach and breathtaking and ingenius scripts
Reviewed by
Akshaye
on
Tue, 4th September 2012
I use Profiants Scripts by Stoian Nedev since many years. His script "designs" are breathtaking, genius and I am sure like me, all those who use your scripts appreciate his professionalism. I wonder then, why you don't create something bigger like many script sellers. You make our lives, easier and God has bestowed you with so much talent. I hope to see you coming with more scripts shortly and wish you all the best.
Installation was a breeze
verified
Reviewed by
Anonymous
on
Fri, 3rd August 2012
I have purchased the script and installed it in a few minutes. Installation was just like a breeze - very easy for me. I have some questions about using the script and the support answered rapidly. One of the great things of the script is that is written in the way I like - simple code, so I can modify it by my self. I will give a five star rating.